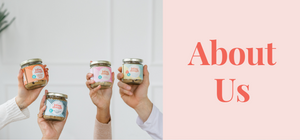 Bliss Dough is Ontario's premium edible cookie dough company. Founded in 2018, Bliss Dough offers safe-to-eat, edible cookie dough in a variety of flavours with vegan and gluten friendly options available.
Where to Purchase
There are a variety of ways to get your hands on some Bliss Dough! We offer online ordering, Canada-wide shipping, and in store shopping at our own locations, along with a variety of stockists across Ontario such as Longo's, Fortinos, and more!
Flavours
Bliss Dough initially launched with five core flavours: Chocolate Chip, Funfetti, Dark Cafe Mocha, Peanut Butter Chocolate, and Walnut Brownie (discontinued).
We have now expanded to offer additional flavours such as: Cookies & Cream, Brownie, and Oatmeal Chocolate Chip.
We also offer fun seasonal flavours throughout the year, such as: Peppermint Brownie, Pumpkin Spice, and our most popular flavour to date- Mini Egg!